RC flying to take aerial pictures
I started flying a model plane to get a camera in the air.
Here you see the various stages from getting the plane in the air first time spring 2003 until its fatal crash in May 2005
Plane / Construction

Failure with new body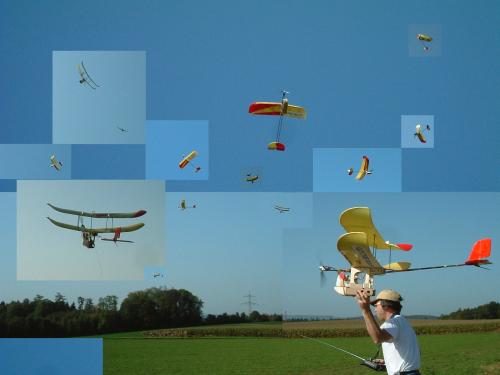 1st brushless Motor: Lehner 1515
2nd brushless Motor: Hacker B40
3rd brushless Motor: Hacker B50
---
Still shots
Snapshots with video transmitter
first I was using a small wireless camera to transmit video. June 2003 The quality was not acceptable, so I built a case for the
Nikon Coolpix
and flew this much heavier camera. July 2003
I did not want to ruin the Nikons zoom lense, so I purchased a fixed focus
Fuji F402
which performed great in many flights:
Convent church look straight down
Trying to achieve even better image quality, I purchased the
Sony T1
Setup / first pictures quite an improvement of the image quality
---
Videos
Video transmitter
first videos were taken with the wireless mini camera, here a few snapshots as video
the interferences were terrible, so I tried a
Kodak MC3
The small device is just fine for RC flying, and it served on many flights:
Panasonic DV camera
once my plane was able to lift 500g, I flew my DV camera a few times:
Sony T1
this camera can also be used for videos
Video Windisch with some impressions
---
Crashes
what goes up must come down...

August 2003 was a real crash month...
Dive 150m into trees (video taken with the Sony T1 which survived unharmed)
Dive 50m into a road the end of the motor
---